When I was informed that there are available scholarships grants for Bread and Pastry Production (BPP) NCII. I did not hesitate even for a moment and grab the opportunity of learning new skills and apply it later because I am not good at cooking and baking either. Hence, I needed this training. As for the schedule of this training we were advised that it is only for 15 days but as we go along, we were told that our training was extended for another 15 days, so a total of 30 days. We started last July 8, 2013 and hopefully we end up to August 16, 2013. The schedule time is from Monday to Friday at 1:00pm to 5:00pm.
Since I am far away from TESDA KorPhil, I have to ride the bus everyday but I am not complaining it is the fastest way to get there and the bus fare differs from Bus Company. I wonder why that is. Anyway, during the classroom activity we tackled about Bread and Pastry Production, about the kinds of tools and materials we are going to use, the ingredients, safety procedures and the like.
What I was excited about was the first time I bake and made a custard cake. For a person with no experience at all and made one is a very good and lasting experience. Though, we were form into a group of five people. I was the one reading and explaining to my group mates on how and what we are going to do but I am not an expert to this so from time to time I asked our trainer if what we did was correct.
And this is our first ever CUSTARD CAKE. I am very happy with the result.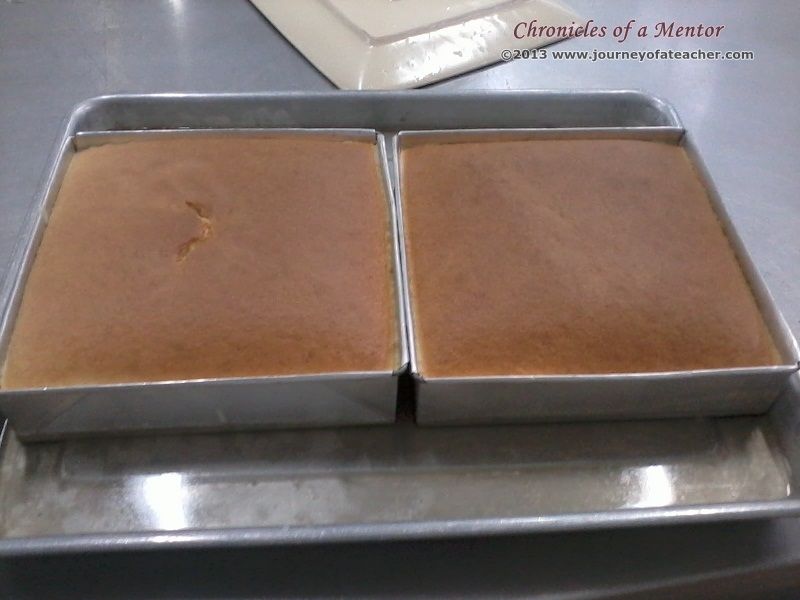 Custard Cake fresh from the oven
with my group mates before the cake presentation
According to our Trainer, the caramelized sugar was a bit lacking but the over taste and texture was good! and we are happy with that. By these time, I know now how to make this custard cake yummier….
There's always room for improvement and remember this was our first time to bake. Lol!